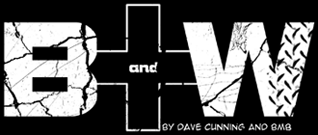 Are you ready to laff!?!
Too bad, Black and White isn't a comic with humour in mind.
Recently Dave Cunning approached me and quizzed on wether I'd be keen to collaborate with him on a webcomic idea he's had boiling around within his noggin for some time, the very moment his cheque cleared I said I was keen as mustard to get in on it.
For me personally, doing the art for someone else's writing always feels quite different than when I'm working from my own scripts, so when Dave told me how he wanted to go about the creation process I was quite intrigued and found myself having a bunch of fun when I did a sample comic.
Dave has basically given me no instruction. Instead, I get a spreadsheet with a guide as to how many panels it's broken into, just the dialogue and/or thoughts for each panel, nothing more than what the readers themselves will be reading, and from there I'm to go by how I interpret it. The other super fun element for me is that each panel can only have a maximum of 15 minutes spent on it, from the moment my pen touches the tablet the countdown begins, giving the art (imho) a very raw feel, I need to get across what I'm trying to show in the panel, and farting about umming and ahhing simply wont work.
So, I open the 3 panel template, read the dialogue, tune in and go!
I think it feels quite different to my other art as I am normally pretty slow, and being forced to work like this is a nice little rush, I don't know much more than the reader as to what's coming as the workings of Dave's mind are a secret, even to my psychic pooch Poochini (What a waste of $50 that was…)
So yeah, the comic is fresh, new and now is a great time to jump on board, it'll be updated every Monday and Thursday. We'd love to hear feedback so if you love (or loathe) what you see drop us a line at the addy at the comic.
So see you at